Through the generosity of our parish, we are able to provide FORMED which is a subscription-based application of Catholic books, movies, Bible studies, children's movies, etc. in English and Spanish.  There is no better time to feed your soul to sit down as a family – spiritually.   There are hundreds of options in English and Spanish via computer, IPad, tablet, or smartphone.  To download July Highlights, click on the images below.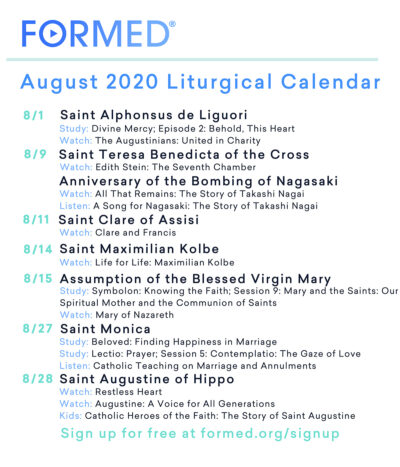 Here's the new instructions for 

FORMED

:
  How to use 
FORMED

?
 2. Click on "Sign Up" in the upper right-hand corner
 3. You will be asked the question, "How would you like to sign up?"
The choices are: a. Individual
b. I am a parish or organization
c. I belong to a parish or organization
Choose the 3rd option.
 4. Enter in the search bar, "St. Luke the Evangelist" and find us in the drop-down box by our physical address (91 N. Park St., Dahlonega, GA 30533) and select it.
 5. Click Next
6. Enter your name and email address and click on the "Sign Up" button