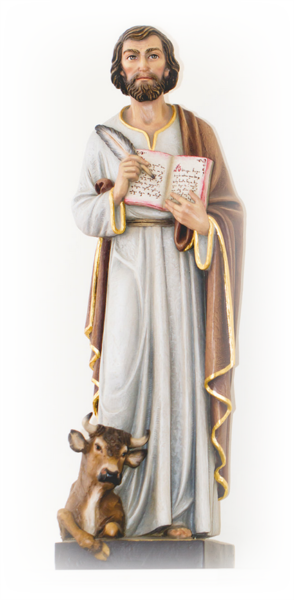 Each of us, by virtue of our baptism, is called by God to life of holiness. Priests and laity live out that call out in somewhat distinct ways. The lay faithful typically live out their call to holiness in the world through daily striving to live the gospel in their families and in the broader society and culture. The vocation of the priest, on the other hand, is one of ministering to the faithful by teaching, sanctifying, and shepherding, which primarily happens in the parish.
Although the laity live out their baptismal call primarily in the world outside of the parish, they are also called to assist in the ministry of the priest by actively participating in the different ministries of the parish. Our web page lists numerous opportunities that are available at St. Luke's for you to share your time and talent with others and to help further the work of our parish family. If you would like to assist with any of our important ministries, please contact the designated ministry leader or our parish office.
Liturgical volunteers must be a practicing Catholic in good standing if married, married by a deacon or priest of the Catholic Church, and been a parishioner for six months.  Volunteer Application
A listing of the ministries of St. Luke are shown below.
To view a list in table format, CLICK HERE.
FINANCE COUNCIL
Assists the Pastor with the stewardship of the material resources of the parish. Meetings occur monthly.
Fr. Matthew Dalrymple
mdalrymple@stlukercc.org
PASTORAL COUNCIL
Assists with the pastoral care of the parish. Meetings occur quarterly.
Fr. Matthew Dalrymple
mdalrymple@stlukercc.org
ST. MATTHEW MINISTRY
Assists in the counting of the Mass collections each week. Volunteers are required to go through screening & training.
Charlene Lebya
cleyba@stlukercc.org
LANDSCAPING COMMITTEE
Cares for the grounds around St. Luke's, typically the first Saturday of the month. All parishioners are welcome.
Fr. Matthew Dalrymple
mdalrymple@stlukercc.org
FINANCIAL ASSISTANCE
Our parish works with an organization called St. Vincent de Paul to assist individuals and families who are in need of financial assistance with rent, utilities, or other immediate needs.  To reach our St. Vincent de Paul hotline and a volunteer will return your call within 24 hours.  All financial assistance should be directed through St. Vincent de Paul.
SVDP
706-835-8033
EUCHARISTIC ADORATION GUARDIANS
Guardians offer a scheduled hour of prayer each week before the Blessed Sacrament in our Saint Pope John Paul II Adoration Chapel.
Kathy Krause
kmakrause@yahoo.com
HISPANIC MINISTRY
On the 4th Friday of each month, Adoration/Praise and Worship is held in the Church from 7-9PM.
Javier Martinez
706-973-2148
ELIJAH CUP
Each week parishioners take home a chalice which is placed in the home as a reminder to pray for vocations.
Sign up Here
Brandy Thomas
blsthomas@yahoo.com
TOTUS TUUS ROSARY GROUP
Parishioners pray the Rosary after the 8AM mass on Tuesdays (English) and Thursdays (Latin).
ALTAR LINEN MINISTRY
Assists in the care of the various linens used in the celebration of the Mass – laundering and ironing.
Dru Woody
E-mail Dru
ALTAR SERVERS GUILD
Boys and girls (at least in the 4th grade) who assist at Mass.
Mark Peffer
mkpeffer@windstream.net
EXTRAORDINARY MINISTERS OF HOLY COMMUNION
Assist with distribution of Holy Communion at Mass and may also bring Communion to the hospital and homebound.
Church Office
office@stlukercc.org
LECTORS
Assist in the proclamation of the Sacred Scripture at Sunday Mass and other special liturgies throughout the year.
Church Office
office@stlukercc.org
ALTAR GUILD
The Altar Guild assists the pastor by taking care of the church and items that are used in the sacred liturgies and in other tasks he assigns to the Guild.
Sharon Jablonski
E-mail Sharon
MUSIC MINISTRY
Adult choir, children's choir and cantor vocal training; preparing to lead music at Mass. Adult choir sings at 10:45AM mass on Sundays;
Rehearsals on Thursdays at 6PM.
Kathy Krause
kmakrause@yahoo.com
USHERS
Assist at Mass by welcoming and seating parishioners, taking collections, and other duties necessary.
The office.  Office@stlukercc.org
WEDDING GUILD
Assist in logistical preparations for weddings prior to and on the day of the wedding.
Ronnie Dew
brdew22@gmail.com
COOKIES & COFFEE
Provided each Sunday after the 10:45AM Mass. Volunteers provide refreshments in the parish hall on a monthly rotation.
Christine Nunez
pepelina2001@yahoo.com
WOMEN'S GUILD
The mission of the Women's Guild is to build community among the women of our parish through spiritual, social and charitable activities.
Mary Ann Clagett
mikeandmaryann78@gmail.com
MEN OF ST. LUKE
The Men of St. Luke bring together the men of our parish in fellowship and a spirit of service to help support the needs of our parish.
Bob Andriakos
andriakr@bellsouth.net
ST. VINCENT DE PAUL
The SVdP Society serves the needy of Lumpkin County regardless of background through spiritual support, life management, and financial aid as needed.
Karen McLean
PRAYER BLANKET MINISTRY
Women's Guild members who provide blessed blankets with rosaries for those in need of comfort, such as the sick, dying or bereaved.
Rose Dery
rosedery@live.com
RELIGIOUS EDUCATION FOR  YOUTH, TEENS, AND ADULTS
PARISH SCHOOL OF RELIGION (PSR)
Classes are held Sunday mornings from 9:15-10:30AM. It also incorporates Vacation Bible School. Registration in PSR is required for First Holy Communion in 2nd grade.
Kelley Peffer
kpeffer@stlukercc.org
EDGE MIDDLE SCHOOL YOUTH GROUP
Provides middle school children an opportunity to spend time with their Catholic peers in service, fellowship and fun. Meets every Wednesday.
Matt Hair
mhair@stlukercc.org
LIFETEEN HIGH SCHOOL YOUTH MINISTRY
For high school students on Sunday mornings and Wednesday evenings, retreats, mission trips, socials, etc. Registration for Sunday classes is required for Confirmation in 10th grade.
Matt Hair
mhair@stlukercc.org
RCIA (RITE OF CHRISTIAN INITIATION)
RCIA is a process by which a non-Catholic is received into the Catholic Church, or a Catholic completes the sacraments of initiation; for both those interested in becoming a Catholic as well as being a sponsor,
Fr. Matt Dalrymple
mdalrymple@stlukercc.org
SUNDAY MORNING BIBLE STUDY
Sunday mornings at 9:15AM in the Parish Hall. Breakfast provided.
Amy Schmalen
amyschmalen@gmail.com
HISPANIC MINISTRY BIBLE STUDY
Wednesday night Bible study and prayer in the Parish Hall.
Javier Martinez
706-973-2148
CATHOLIC CAMPUS MINISTRY
Meets every Tuesday evening at 7:30PM in the Parish Hall. Lunch provided every Wednesday in the College Room. Spiritual, social and service activities throughout the year.
Matt Hair
mhair@stlukercc.org
DINNER & DOCTRINE
Held on the 1st and 3rd Wednesday evenings from 6:45-8:15PM. Begins with a potluck dinner, followed by a presentation by a reputable teacher on topics related to the Catholic faith. Babysitting is provided.
Kelley Peffer
kpeffer@stlukercc.org
WOMEN'S SCRIPTURE STUDY
A study on Sunday's Mass readings. Meets each Thursday at 10:30AM in the Administration Building.
Mary Ann Clagett
mikeandmaryann78@gmail.com