We are pleased to announce our 2nd Annual Corpus Christi Day at St. Luke the Evangelist on Sunday, June 19, 2022 from 12-3pm.  
Activities will be located in Hancock Park across from the church, church and parish hall.   If inclement weather, we will use the church and the parish hall exclusively.   Pray for good weather!    Photos below are from 2021!   
Activities included:  
Procession with the Most Blessed Sacraments
Picnic lunch
Games
Speaker TBD
Fellowship with parishioners new and old. 
St. Luke The Evangelist – Corpus Christi Parish – June 19, 2022 
Photo of the Day & Procession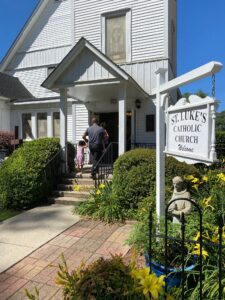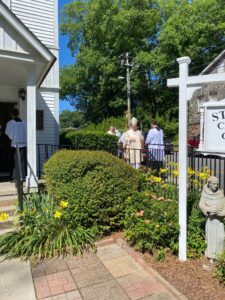 The Solemnity of the Most Holy Body and Blood of Christ
10:45AM Mass
Sunday, June 19, 2022
Main Celebrant: Most Rev. Bernard E. Shlesinger III – Auxiliary Bishop of Atlanta
Concelebrant: Fr. Matt Dalrymple, Pastor