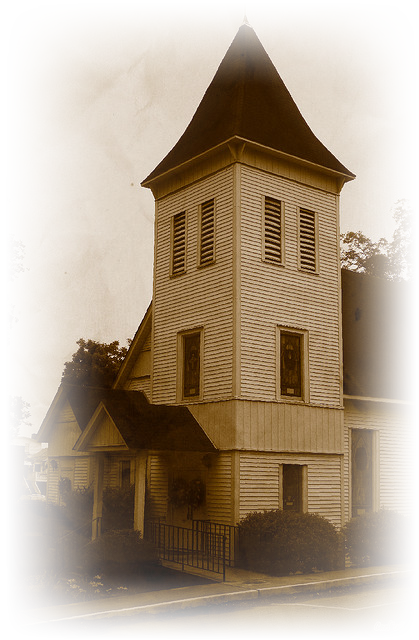 Our History
St. Luke's Catholic Church is housed in an historic building over 100 years old.  Since its initial construction, the building has always been used as a place of worship, though only since 1962 by a Catholic community.
Originally built by Dahlonega's Presbyterian community in 1899-1900, the structure was also briefly used by the Church of God in 1909.  For over 60 years the Presbyterians maintained the church.  Eventually, however, they outgrew the clapboard sided building and relocated to a new facility nearby.
By the late 1950′s a small Catholic community had begun to grow in the area.  Recognizing the need to serve these Catholics in rural north Georgia, the bishop of Atlanta established a Catholic Chapel in Dahlonega in 1960 with outreach ministries to four counties of Lumpkin, White, Union, and Towns.
The Glenmary Home Missioners, who worked primarily in rural and unchurched areas of the South, were invited to assume leadership of the fledgling community.  The beginning were small, with the mission's chapel, office, and priests residence all crowded together in a little white frame house located next door to the church.  The first Mass for the mission was celebrated in the front room of the house in the fall of 1960.
When the Presbyterian congregation expanded and decided to relocate their church, the diocese of Atlanta quickly saw the opportunity to expand its own worship facilities and purchased the building. Glenmary brothers and parishioners remodeled the interior, creating a suitable Catholic environment.  On August 18, 1963, Archbishop Paul J. Hallinan celebrated the first Mass in the new church.
The lot behind the church was also purchased and became the site of a new rectory and administrative offices with meeting space for both parish and community activities.  Eventually with the growth in population in Lumpkin County, St. Luke's had to expand the church building, extending the structure out the back. In recent years we've also been blessed to be able to purchase a new rectory for the clergy, and to build our wonderful parish center which provides us with much-needed gathering and classroom space.
Even though our facilities have expanded significantly over the years, the character of the church as a place of worship for these 100 years has remained the same, and we are proud as a Saint Luke community to call it our home.
Below you will find some interesting articles published in our diocesan newspaper, the Georgia bulletin, which speak about our church.
St. Luke's — Apostolate In The Mountain Country Georgia Bulletin Article – November 7, 1963
Georgia Mission Appeal Sunday Georgia Bulletin Article – November 7, 1963
(Ineresting article on the purchase of the property for the Church).
New Windows Grace Dahlonega Church Georgia Bulletin Article – December 1, 1997